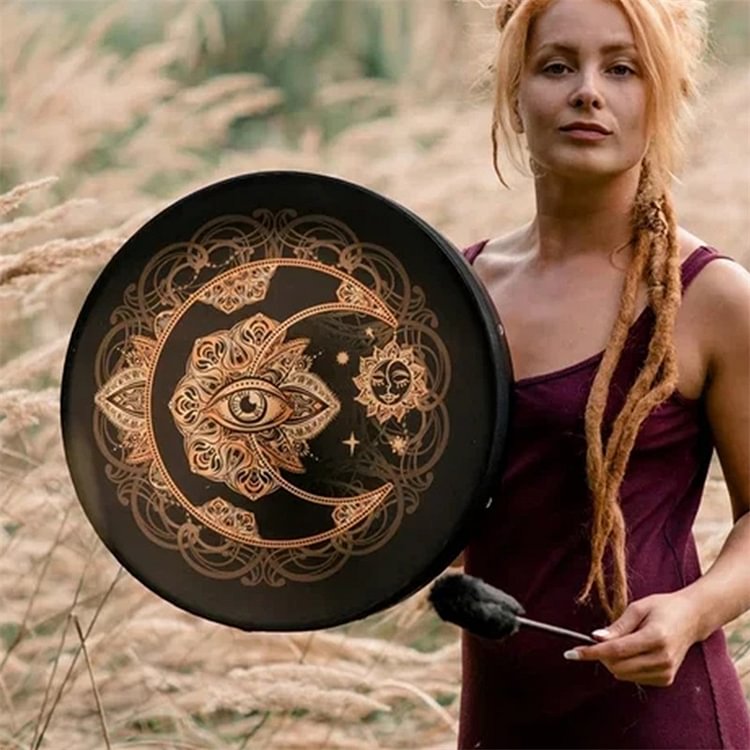 Sincerely, for us and for many owners of our vegan drums, the sound you get from a plastic membrane is just as deep and sometimes even deeper, than that from any goat-skin drum. The sound is so deep and low that it is good to use for healing and sound massage.
stable and consistent sound at any temperature:
now you don't have to worry about the temperature, in contrast to a goatskin drum which is susceptible to changes in temperature. The shamanic vegan drum is more comfortable and practical to keep and play, so enjoy playing it – it will have a good sound anytime and anywhere.
The greatest force will be near the full moon, cleansing practices will go well on the new moon.
Strong drum for practice. Wicker tree symbol with wooden handle. The tree symbol helps to align the connection of three worlds: the subconscious, conscious and superconscious. In other words: Ego, I, and Big I. The sound of this drum expands the perception of the world. This gives you the opportunity to better understand yourself.
It is a work of art. Beautiful craftsmanship, exceptionally sturdy, and a surprisingly deep and powerful sound. Beautiful design sounds awesome and feels like it can withstand a lot of hard work. Lots of energy. 
The drum is so wonderful and unique. It has a very very nice sound. You can inaugurate it in a spiritual incense ceremony. It was a very moving moment to let them sound.
This beautiful Shaman drum is sure to put a smile on the faces of your visitors, and it can be sent to you now! 
Maat ca. 18'' inches.
DETAILS:
Handmade
Material: Wood, rope, stick, Tuning Key,Faux fur, plastic printed membrane ,environmental Protection.
Diameter 18'' inches
Swear to god: I will never sacrifice quality or use inferior materials! My goal is to always exceed your expectations.