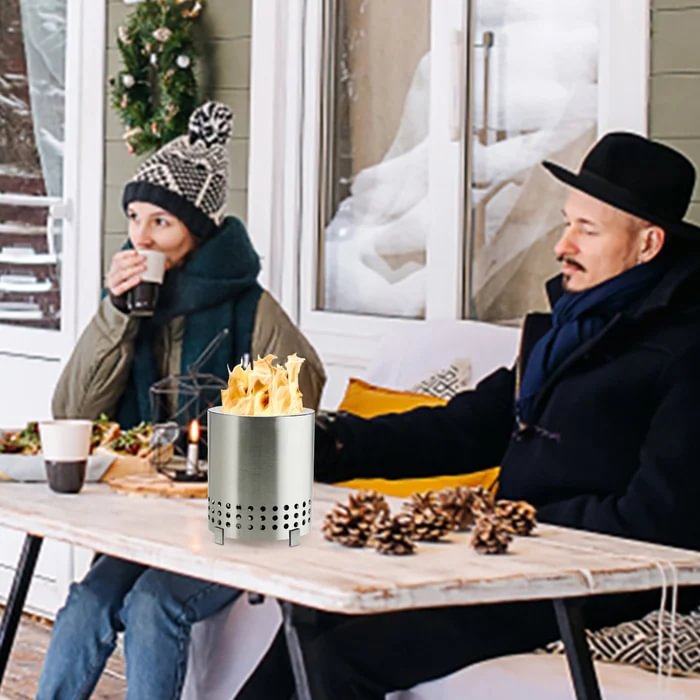 Bring warmth to the table. Is the tabletop fire pit made to elevate your space's aesthetic. With Dual Fuel capability and Signature 360° Airflow, anyone can easily ignite and enjoy a smokeless fire.
Give your fire pit a solid surface to rest on. Simply place this stove in the center and light your fire. 

With Signature 360° Airflow, our stove's flames will burn ultra-hot whether you're burning pellets or wood.
Easy To Light 
Go from box to burn in minutes. Thanks to 360° Signature Airflow anyone can easily light up a smokeless fire. Simply place your fuel inside and light your firestarter to enjoy a warm fire in just a couple of minutes, whether you're a first timer or a pro. Simply add fuel as your fire dies down to sustain your smokeless flame.
Long Lasting
Iron is highly durable, and won't cave under the pressure of an ultra-hot flame. 
Dimensions & Materials
Height: 5.1 in | 13 cm
Diameter: 6.8 in | 17.3 cm
Weight: 0.67 lbs | 0.3 kgs
Materials: Iron