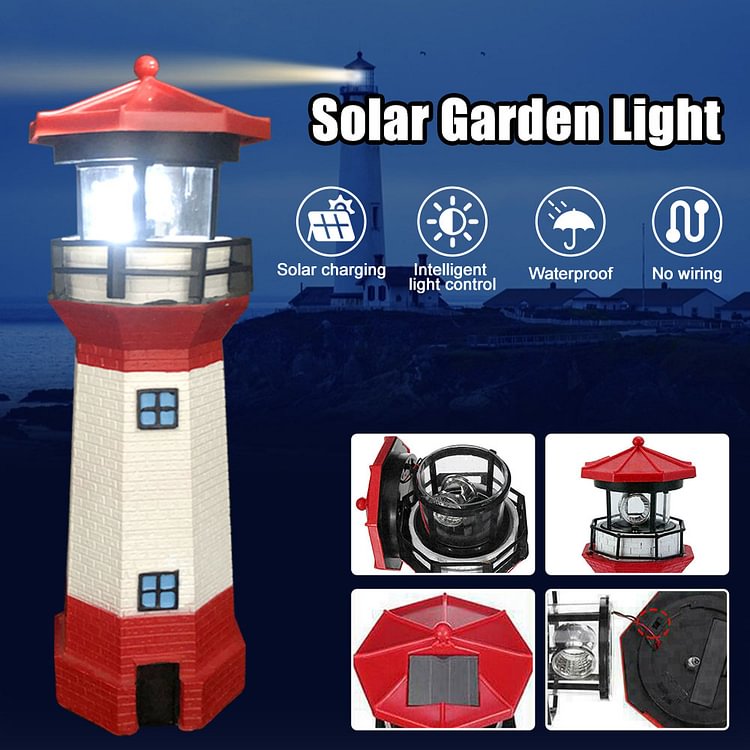 Solar Tower Lighthouse Rotating Lamp Outdoor Waterproof Landscape Statue Resin LED Warning Light Garden Yard Decora Floodlight
Specification:
Solar panel: amorphous silicon 2V 40MA
Battery: 1.2V 300Mah AAA rechargeable battery
Number of LED lights: 1 white bright LED light
Product size: 27CM*9CM

Features:
【Solar Energy】: This realistic lighthouse,complete with a rotating lamp, converts the daylight through the solar panel and stores in the rechargeable battery (built-in) and automatically lights up at night.On/off switch.
【Auto-rotation】: When the solar lighthouse lights up automatically at night, the light cup will start to rotate with it, with an auto-rotating light effect, which can illuminate the road and create a very romantic atmosphere.
【Durable material】: Using high-quality resin material, it is durable, energy-saving and waterproof, and will not fade. It can be used in any season. It is a stylish and beautiful solar decoration.
【Applicable occasions】: solar lights are suitable for outdoor decorations, gardens, patios, etc. It is like a guide who guides the road at night, beautify the garden, and illuminate the road ahead for people.
【Easy to use】: No wiring or additional power supply is required, no time to install, and it can be placed directly on the lawn. It can be automatically charged in the sun during the day, and will automatically light up in a dark environment.