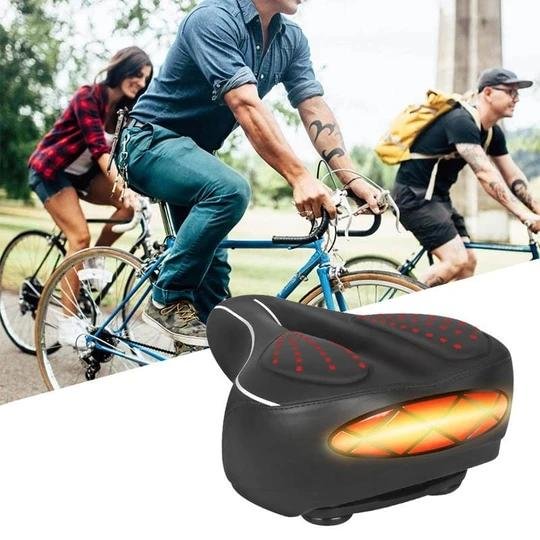 Soft mat, wear-resistant silicone surface- Durable, comfortable and better protect your hips! The surface of the bicycle seat is made of high-corrugated waterproof silicone, which is scratch-resistant and has a longer service life. The bicycle saddle is filled with high-elasticity and high-density foam, which is shock-proof, effectively relieves pain, reduces fatigue and discomfort, and gives you a comfortable ride. .
Stroke breathable design, shockproof dual track- The narrow front of the bicycle saddle allows the thighs to move freely without rubbing the thighs. Hollow and air tank design, speed up air circulation, reduce the feeling of sultry, no pressure on the parts, keep cooling and dry! Plus shock-proof suspension double track, with scale, high strength, providing strong support...
Safe- The bicycle seat is equipped with taillights to protect the night ride. The hollow in the middle makes the bicycle seat more breathable. This is important for cyclists to reduce heat and sweat during long distance riding. .
Ergonomics- Due to the ergonomic shape of the saddle, riders feel comfortable even on long trips. Rugged, high-quality materials, padded bicycle saddles are durable and wearable...
Easy to install- If you use it as a mountain bike seat, a road bike saddle, a stationary bike, this comfortable bike saddle can enhance your ride quality
SPECIFICATIONS
Weight: 800g
Applicable: double rail seat tube / clamp ring seat tube
Color: black red
Material: steel frame base, thick foam soft rubber, leather
PACKAGE INCLUDED