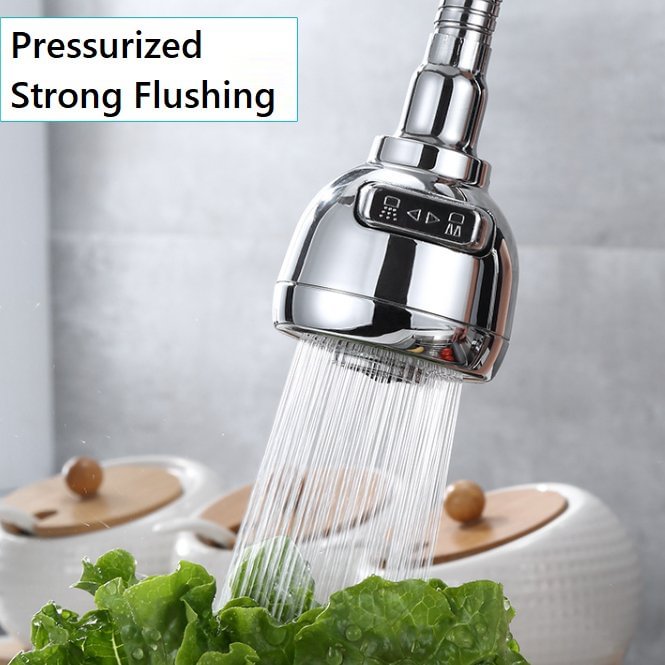 At the crucial moment
Please rest assured that we will ship normally.
At the same time, we hope you take good care of yourself.
☆☆☆☆☆ WELCOME TO THE STORE!
Increase water pressure instantly and convert soft bubble stream to strong spray. No more splashing and saving 40%-70%.
The Pressure Boost 360° Rotate Kitchen Tap is the number 1 must-have kitchen tool of 2022!  It features a 360-degree rotatable tap nozzle and a unique 2-mode spray function, helping you clean your fruits, veggies, and kitchen sink effortlessly while saving on water bills. 
FEATURES
Durable + Low Maintenance: Made of ABS, stainless steel and other wear-resistant materials. 
2 Adjustable Nozzle Settings: With a built-in switch, it can efficiently adjust water output to 2 different levels, giving you more choices for different cleaning scenarios.
Fully Rotatable: Rotates a full 360 degrees for increased control and precision.
Widely Compatible: Can be fitted to the kitchen faucet, bathroom faucet, and more!
Easy Installation: Convenient and simple installation with no tools required.  
How to Install
Installation method of internal thread faucet
Installation method of external thread faucet
1. Install the universal adapter
2. Tighten the snap ring with a screwdriver
3. Complete the installation
Suitable for most faucets with similar appearance as shown in the figure below.
SPECIFICATIONS:
Material: ABS + Stainless Steel
Size: 5.7cm x 16cm
PACKAGE INCLUDES:
1 x Pressure Boost 360° Rotate Kitchen Tap