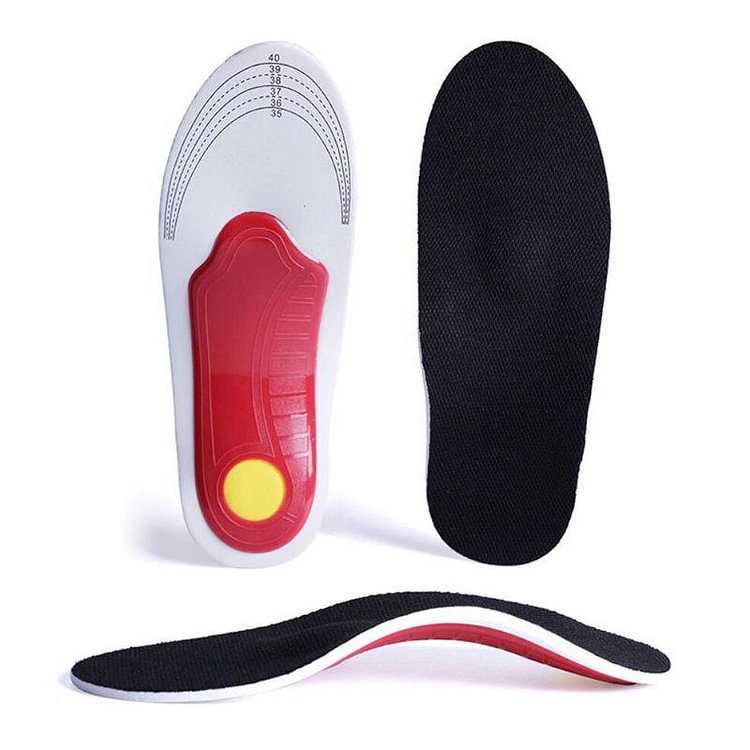 Superb Quality
OrthoFlexx™ uses premium components in their manufacturing for superior craftsmanship and durability.
No-Hassle Returns
If you are not satisfied with your OrthoFlexx™ product, you can return it within 30 days of purchase for a full refund.
 The OrthoFlexx Orthotics
Plantar Fasciitis and Flat feet can be painful and make going about your daily routines difficult.

 We've developed the OrthoFlexx Orthotics with your comfort in mind, providing you with great arch support for flat feet to help eliminate and relieve the pain caused by plantar fascia.
WHAT IS FLAT FEET?
Flat feet is a condition in which the soles of the feet have little to no arch, giving you little to no cushion or support.
HOW THE ORTHOTICS HELP
The OrthoFlexx orthotics provide gentle yet firm arch support for those who suffer from flat feet or plantar fascia pain, and also has a cushioning heel pad that provides relief from the impact caused by waking and running, as well as the stress of standing for extended periods.
GREAT QUALITY
The orthotics are soft, light, comfortable, and easy to install in all different types of shoes.
STEP 1
The insoles that came in your shoes are probably removable – take them out first.
STEP 2
Place the orthotics into shoe, fabric side up, to test for size. If needed, trim the orthotics along the outline (on bottom of orthotic near the toes) that matches your shoe size.
STEP 3
Ensure the insert lays flat against the bottom of your shoe, especially in the toe area. If it doesn't fit without bunching, continue to trim as needed.
Depending on your shoe size, trimming may be necessary to obtain an optimal fit. You can check the available sizes on the size chart above on this page
The orthotics are designed to last 1 year with regular use. They should be replaced within this timeframe or at the first signs of wear.
You can wash the orthotics by hand or in a washing machine on a cold-temperature setting. They should be left to air-dry; they cannot be machine-dried.
Yes, they can be transferred from shoe to shoe as long as the shoe is still comfortable and does not feel too tight
Size
Available in both small and large sizes, both of which can be trimmed to match shoe sizes.
|   | US/CA | UK | EUR | AUS |
| --- | --- | --- | --- | --- |
| S | 5 - 9 | 2.5 - 6.5 | 35 - 40 | 3.5 - 7.5 |
| L | 9 - 14 | 6.5 - 11 | 40 - 45 | 7.5 - 12 |