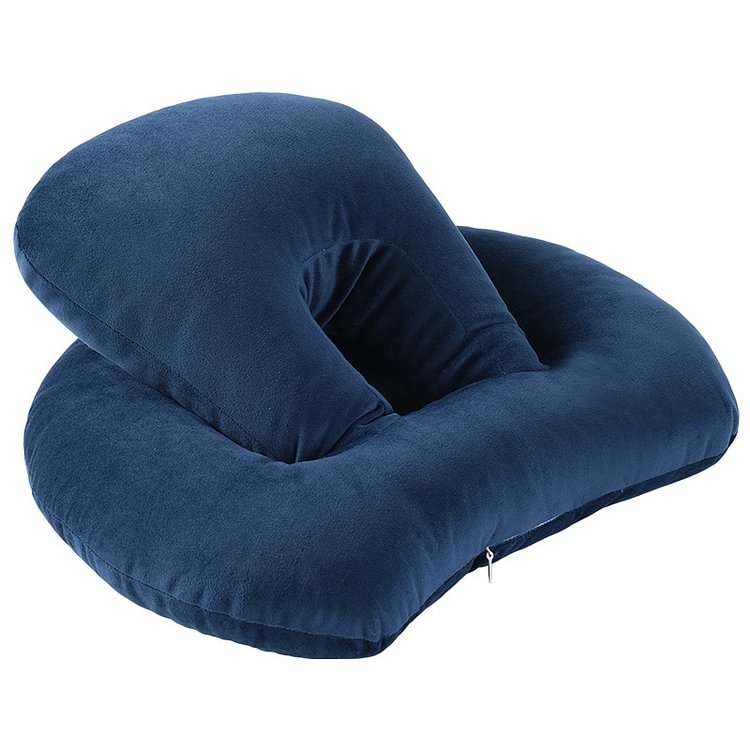 About this item
Good head support that keeps your head, neck, arms and shoulders in a comfortable and healthy way that prevents pain and stiffness.
Double hole design allows you to breathe easily when you have a nap on your stomach or sleep on your stomach
MULTI-FUNCTION - The nap pillow also works as a lumbar support or neck support pillow when you put it on the back of your office chair.
Adjustable Support Height: By adjusting the position of your hands, you can change the height of the support pillow.
Premium EPE cotton filling is hypoallergenic and keeps its shape.
Product description
This hollow nap pillow is specially designed for desk nap rest when you have a long time sitting for reading or computer use. Surely, if you are going on a trip where there is a small rest desk before you, then it is also a perfect sleep helper.
Another special point for this nap pillow is the double hole design, if you tend to be a stomach sleeper, you can try our pillow. This hollow pillow will free you from the risk of suffocation.
Characteristic:
--- Guarantee a good nap time, have energy during the next time.
--- Keep your head, neck and shoulder in a healthy position, avoid pain and stiffness after nap in office or library.
--- You can freely change the nap position from side sleeping, back sleeping or stomach sleeping.
--- The hole design allows you to sleep with a soothing breath.
--- Good filling cotton does not lose its shape.
Specs:
---Size: 34*43*17CM
--- Cover material: super soft velvet.
---Filling material: high quality EPE cotton