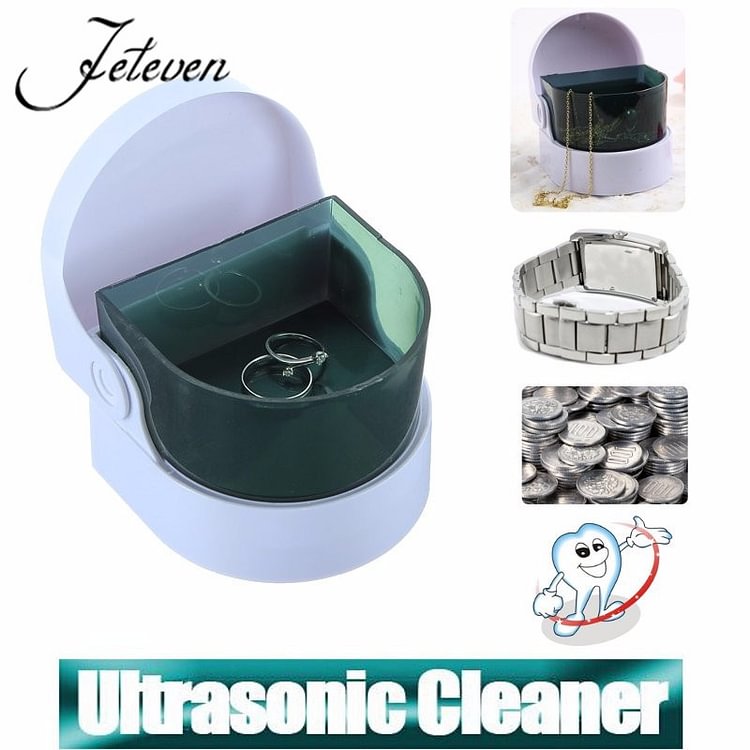 Mini Ultrasonic Ultra Sonic Cleaner Bath Anti-Tarnish Tool For Cleaning Watch Coins Jewelry Ring Dentures Cleaner Battery
Description:
1. Fill the cleaning utensil with a proper amount of water and cleaning liquid, and place the articles to be cleaned in it, such as jewelry, ornaments, false teeth and braces.
2. Place the cleaning utensil on the base properly and fix it safe with sucker, and then place the entire machine on the desk.
3. Power on the cleaning machine

Specification:
Powered by 2 x AA batteries (NOT Included).
Product size: about 7.5 cm in height, 9 cm in width.

Feature:
Gets orthodontic appliances sparkling clean.
Clean deep where brushes can't reach.
Sonic vibrations up to 6500 waves per minute.
Use with any denture or retainer cleaner.
Prefessional lewelers use it to deep clean fine jewelry.
Fit for both professional cleaning and personal use
ON / OFF switch, easy to use.

Package Included:
1 x Ultra sonic Cleaner(not included the jewelry)

Notice:
Vibration is normal due to the principle of sonic cleaning.
Please add to a proper amount of Silverware cleaning fluid for best cleaning results. Proper control of the cleaning time .