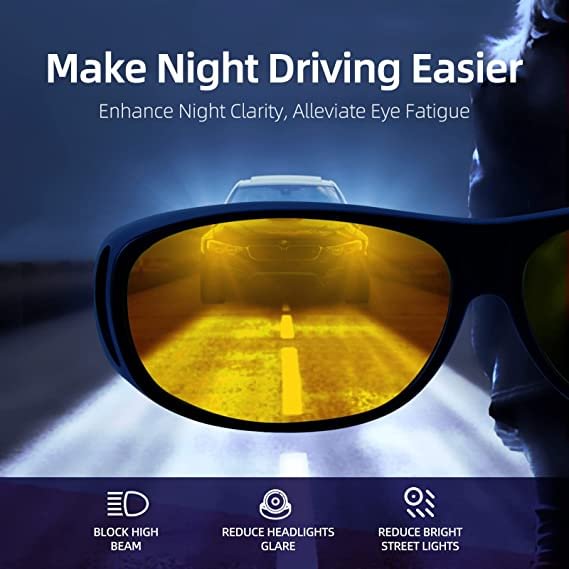 Make Night Or Day Driving Easier


✅

Function:
Reduce glare, add contrast to your vision and increase visual clarity when you drive at night, dusk or rainy day. Ensure driving safety on foggy or rainy days.
✅ Super-Light:
No pressure to your nose even you already have put your regular glasses on.

✅ Prescription Glasses:
Specially designed for wearing over prescription glasses. It can be easily put on your regular glasses.
✅ UV protection sunglasses
are essential to protecting your eyes against UVA&UVB damage and keeping your eyes healthy when out and about. Keep your eyes healthy, bright and charming. Larger Field of Vision than ordinary sunglasses. Easily Fit Over Your Prescription Glasses.
▶ Night vision goggles are designed to improve vision in the dark and reduce glare
from other vehicles.
▶

The glasses make your vision clearer, and protect your eyes from too bright
lights.

▶ Reduces light reflections to prevent eyestrain and gives you a better view while
driving

▶ Perfect choice for night driving in cars, motorcycles, bicycles, running, walking,
fishing and other outdoor activities.
>>Supporting Goods Recommendation>>
High Quality Day & Night Vision Glasses !
PRODUCT INFORMATION
Size: 5.9 X 5.5 X 1.7 inches ( L X W X H )
Color: Shown as the pics
Weight: 20g
PACKAGE INCLUDES
1 X Polarized Night Vision Goggles + Carton + Mirror Cloth + Polarized Test Card