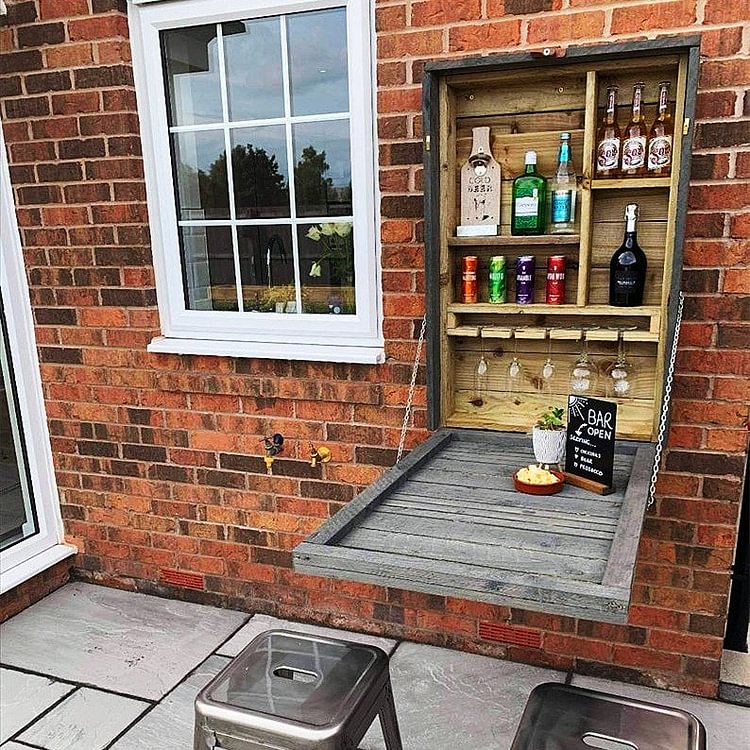 Murphy Bar

A Rustic looking space-saving foldaway wall bar will add a touch of class & style to any garden.
Perfect for chilling/partying, watching the football/rugby, date nights, breakfasts/morning coffee/summer BBQs, or even a gift for a friend or family.

This practical well-designed Outdoor bar features a twin-layer outer case design for added strength. It has four well-placed shelving pockets and a glass hanger with every bar, which holds up to five wine/gin/Prosecco glasses.

The door acts as a drop-down table, with plenty of space when opened. Can be used for nibbles and drinks, or put on a bar stool on either side. It then easily folds away secured by the two turn button latches for safety.

Highlights

*This handy, compact wall bar easily fits any suitable fence or wall and simply folds up when not in use.

*This bar is coated with the highest quality protective paint, which is perfectly waterproof. Easy to clean and wipe.

*The bar uses a double-layer construction to ensure a strong, sturdy, and long-lasting structure.

*Each piece is handmade, and each item will be inspected twice by our carpenter and after-sales before sending out until it is confirmed that it is perfect.

*weight (approx):1.5KG

*Dimensions (approx):40cmX20cmX8cm,

My small team and I pride ourselves on great customer service and impeccable quality. Our customers are and will continue to be our top priority.




We understand that a lot of purchases are gifts and the importance of prompt delivery is something we strive for. Please read our reviews, we are very proud of our service and products.

# Handmade

# 25mm fully pressure treated timber

# FSC Approved. (Forest Stewardship Council meets the highest environmental and social standards)

# Fixings included
We work as quickly as we can to fill orders promptly without sacrificing the quality of our work. You will receive a shipping notification along with a tracking number when your order has shipped.
---
Client Feedback


Dec 1, 2021——Fiona Caddy ⭐⭐⭐⭐⭐




I Can't wait to stock and use my new bar! Thank you 😊





Nov 28, 2021——Joe ⭐⭐⭐⭐⭐




We're loving our Garden Bar! This is in our yard in Philadelphia. We attached to a brick wall with sleeve anchors, which was a simple process. It's sturdy. The bar is top notch quality. Made well. The experience from order to delivery was just A+.





Jul 20, 2021——Michiel Roodenburg ⭐⭐⭐⭐⭐




I am very happy with The Garden Bar! Although the picture shows our rooftop bar semi finished, I wanted to share it anyway. The wallbar itself is sturdy (also the chains which lift the table), finished perfectly, arrived in good shape and easy to mount to the wall. We are hoping on a sunny and easy going post Corona time on our rooftop bar!




Visit our shop to see everything else we make! >>
---
We take pride in our products as we believe they are amazing. However, we understand that buying things online can be daunting, especially for the first time, so we offer a 100% satisfaction guarantee.
Thanks to all the customers who support us for their evaluation feedback! !!

Our topleo team insists on hand-made methods, using traditional wood craftsmanship to create classical and modern designs that are both practical and beautiful. Their design is mainly based on solid wood furniture and daily necessities.
Topleo provides life-long maintenance services. They focus on making solid solid wood furniture and are committed to making household items that can be used throughout a lifetime or even several generations. We pay great attention to details. Every piece of furniture must be polished and oiled by hand until it reaches a certain level of smoothness.
Topleo is an environmentally responsible manufacturer. We attach great importance to environmental protection and have been practicing the concept of environmental friendliness and sustainable development with practical actions. The energy required by our facilities is mainly supplied by solar and wind energy. Timbers come from all different types of forests. So, when you're buying wood products, be confident that you know that it's come from a sustainable source.
Over the past time we have reinvented the definition of furniture store. We strive to make our clients experience a personal one, from the moment they walk through the door appointing them to an experienced interior designer.
Making all clients feel welcome and assisting them every step of the way is what has distinguished our business from the rest. At topleo, we don't just do what's right, we do what's best — for people and for the planet!