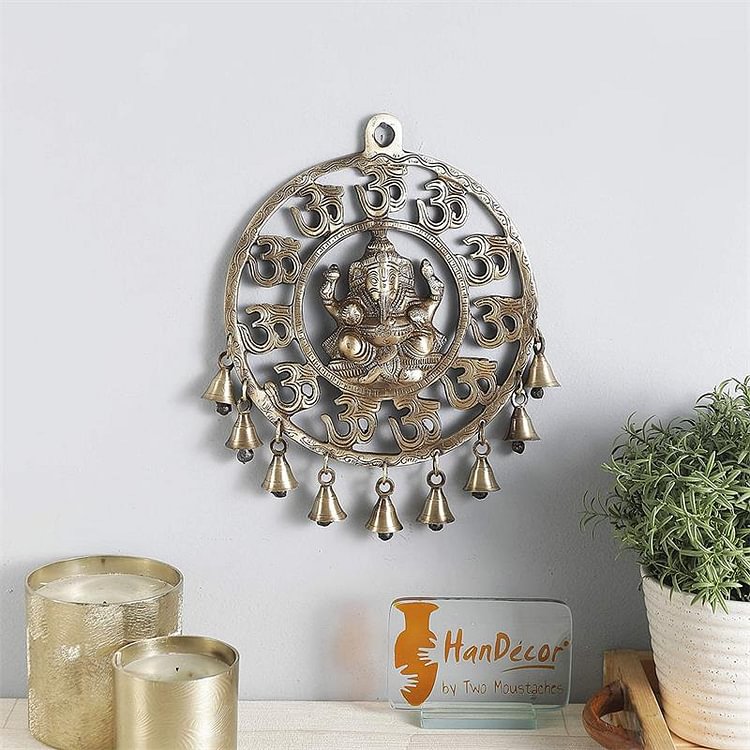 About this item Om Ganesha Statue Wall Hanging - Brass Handmade Wall Sculpture Package Contains: 1 Pc of Brass Om Ganesh Hanging Bells It is a wonderful item for decoration at Festive times. Also Commonly used during Indian festive occasions like Diwali and Navratras. Great for gifting during weddings, anniversaries, house warming ceremonies, new venture, award ceremonies etc. Great Customer Service: We do try our best to improve the product and service..
This beautiful bell chime or wall hanging in brass with Om and Ganesha within it will surely bring in lot of good luck and
prosperity. This Om and Ganesha Brown Brass Dia Wall Hanging will spruce up your interiors with its mere charm enriching your décor
and enhancing the overall appeal factor.This gorgeous and exquisite figure is perfect for your home decor as wall hanging. Brass products that include Brass Statues, Brass Bullock Cart, Brass Vishnu Shankh, Brass Hanging Bell, Brass Krishna Arjun
Chariot, Brass Door Knockers, Brass Dolphin Door Handle, Brass Chairs, Brass Chess Set and many more. We have excellent in-house
amenities, equipped with the recent technology and machines, thus, the designing commences under the guidance of
professionals. Our team members work in compliance with the quality standards to deliver the products built with exceptional workmanship.