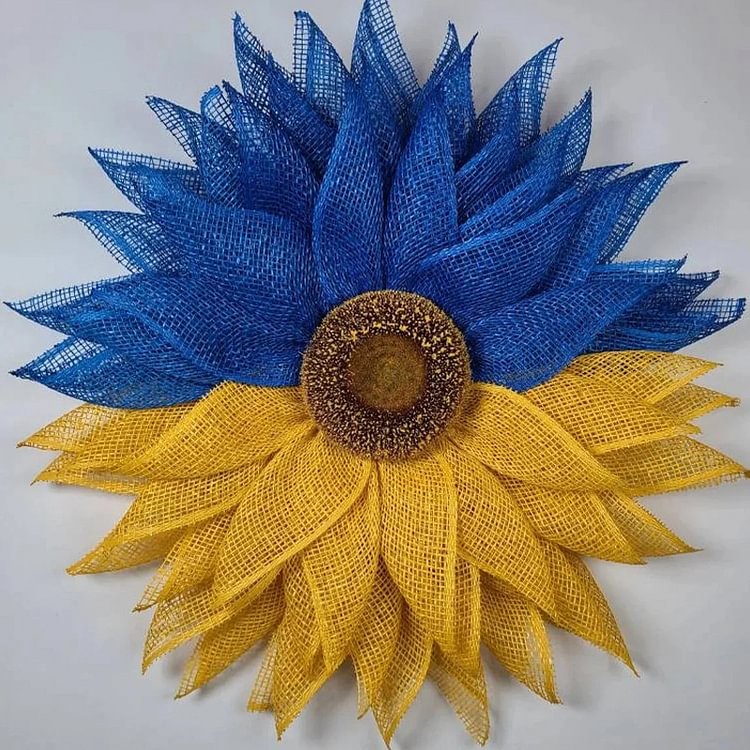 This blue and yellow sunflower flower wreath done in the colors of the Ukrainian flag can be hung on your front door to show your solidarity with Ukraine. Show your support for the Ukraine and everybody involved in this tragic set of events. Praying for Ukraine 🇺🇦
The sunflower is also the Ukraine flower with colors of yellow and blue. Display in honor and support of the people there. Sunflower decor is versatile from early spring to late fall.Show your support for Ukraine by hanging this beautiful wreath for all to see. 

Brighten your day with this beautiful yellow and blue sunflower wreath. It would make a wonderful gift for birthday, Mothers Day, a hospitality gift, thank you a friend. It looks great on a porch, front door, back door, in the kitchen to brighten your space. 
The flower features royal blue petals on the top and yellow petals on the bottom, representing the flag of Ukraine. The styrofoam center is covered in bamboo straw. Did you know the sunflower is the National flower of Ukraine? This wreath measures about 20" in diameter and about 3.5" in depth. 
This wreath may look great in your entryway or foyer, above a decorated mantle, on your front door to your house or shed, or hung on the wall of your porch.
Customer Reviews:

"Very nice product. The cameras don't capture all of the little details-- It looks even better in person."

"My husband loved it!! It looks even more beautiful in Person! WOW WOW WOW!"

"Very clean and beautiful! Exactly what I wanted-thank you!!!"
Thank you for your support!